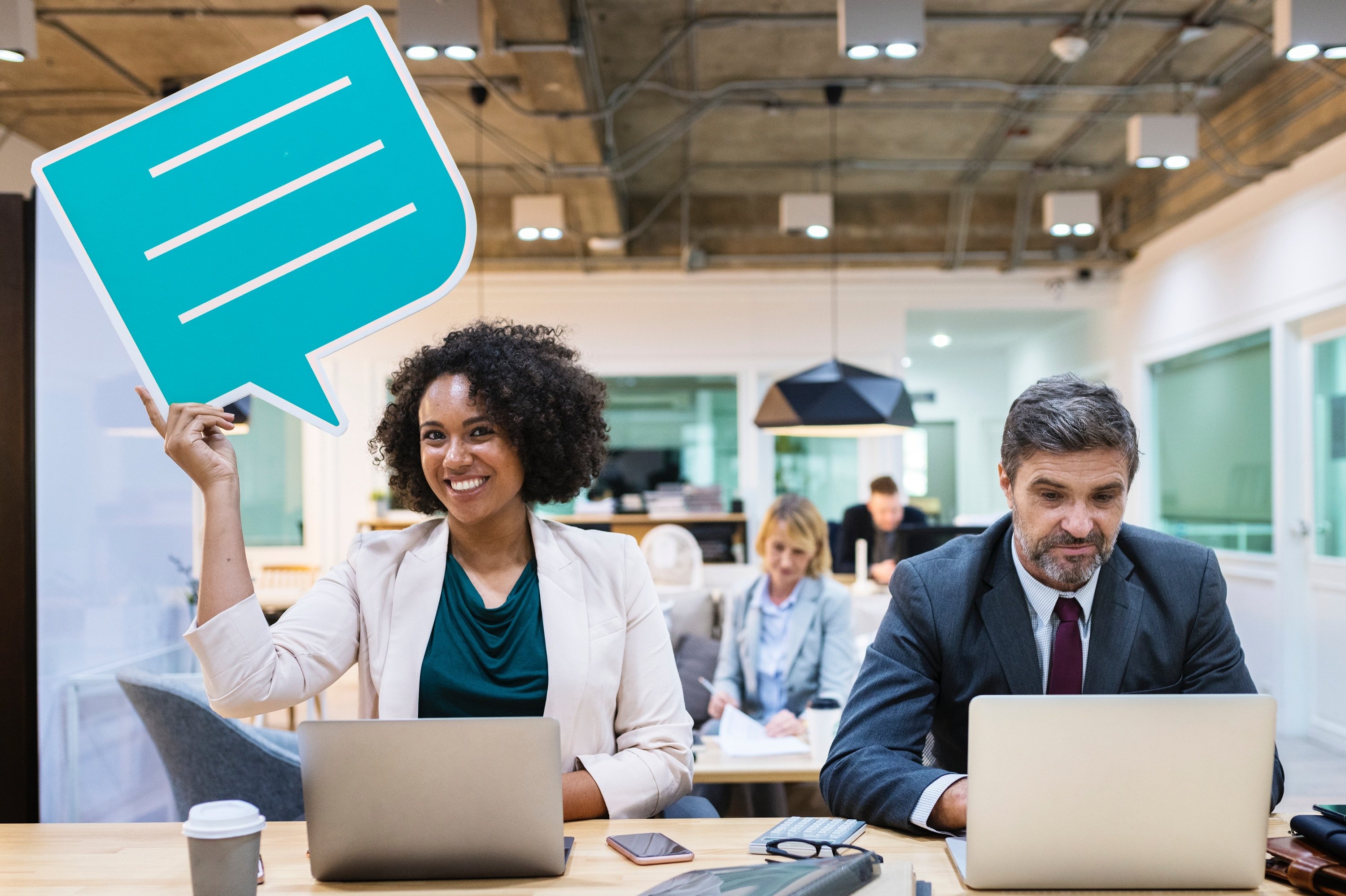 ---
Every year,
litigation teams are responsible for managing
tens of thousands of case-related documents. These documents require processing, and teams need to communicate regularly to keep the file moving forward.

Fortunately, litigators are in luck...
Primafact is designed to manage high volumes of evidentiary documents involved in litigation cases. With Primafact, documents can get shared across your team, so that you can seamlessly communicate about important developments in the case as they happen.
This blog post summarizes key document intake and team collaboration functionality available in Primafact to help litigation teams better manage their files and keep moving the case forward.
---
#1: Document InTake
Case documents arrive at the office on regular basis. The first step of the document life-cycle is to route these documents to the proper handler for filing, and notify their respective owners of the new arrivals.
Primafact's Intake Module is designed to streamline new document arrivals, regardless of volume. These documents can be imported into Primafact from email, desktop, scanner, Windows Explorer, or from the Intake module (seen below). Primafact's batch coding capability makes it easy to code and group documents together for more efficient processing.
Once the documents have been imported, they can then be redirected to the respective handlers for easy filing.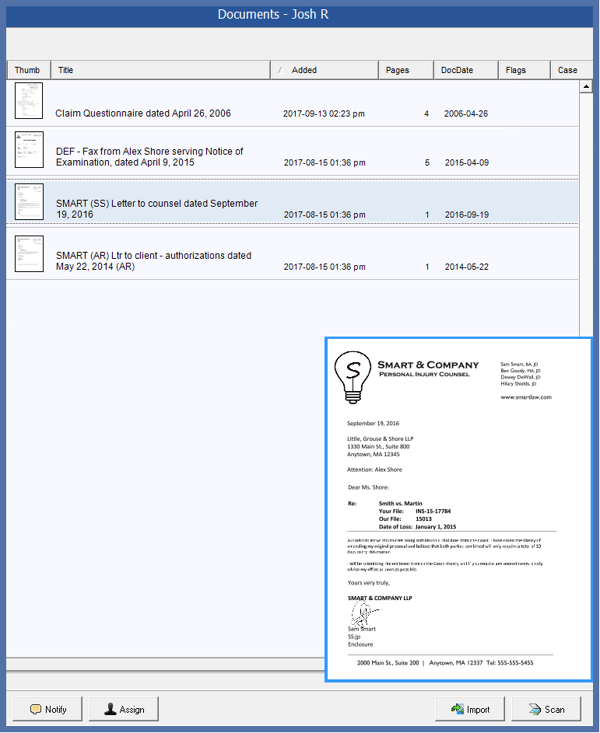 ---
#2: Email Integration
Document Intake is made easier with Primafact's convenient integration with Outlook.
The 'Send to Primafact' Outlook plug-in lets users send emails and attachments directly to their assistant's Filing Queue – as an added bonus, the original email gets filed without added forwarding headers.
More hands-on team members can drag-and-drop Outlook messages directly into Primafact for quick and easy processing.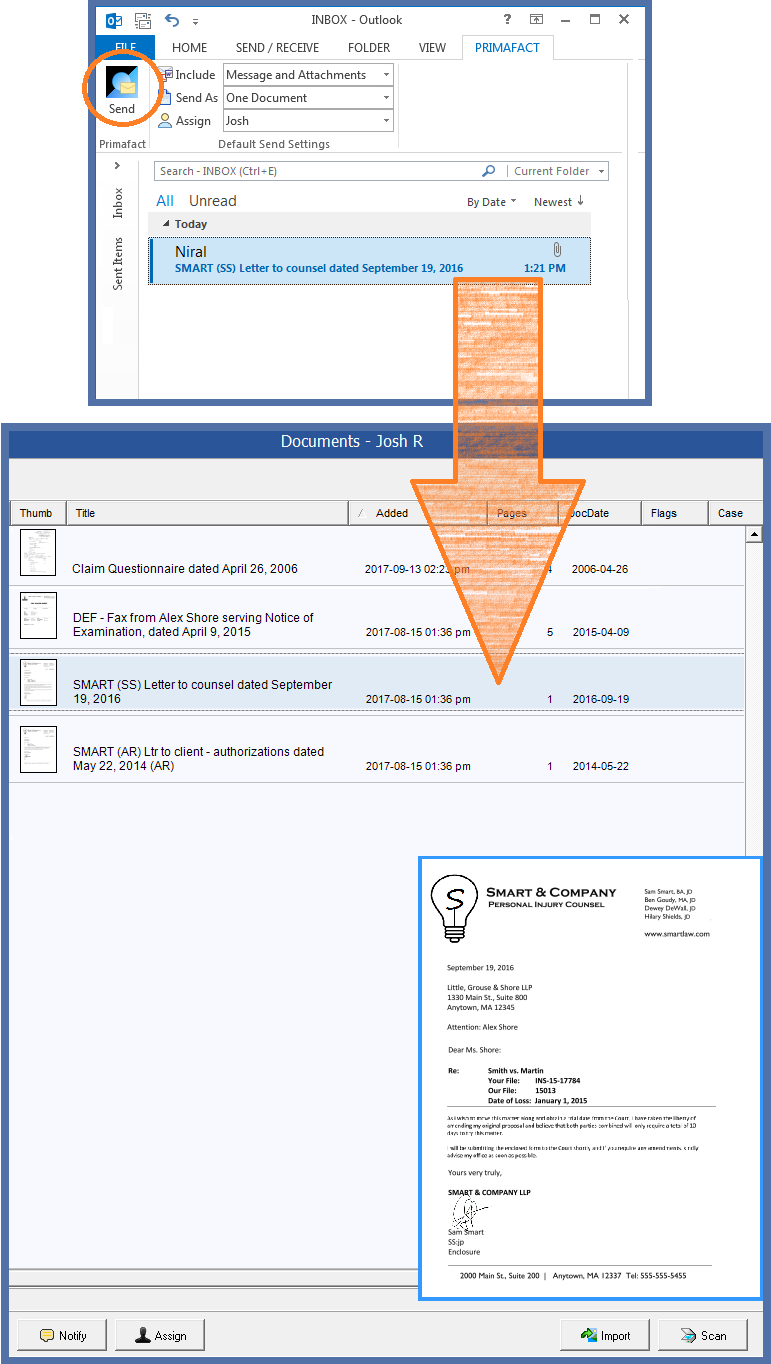 Primafact's import engine converts Outlook messages, PDF and Word files to native Primafact documents– so you can conveniently add analysis and markup with notes for the team.
---
#3: In-App Messaging
The Intake Module integrates with Primafact's in-app document messaging, making it easy to notify file owners that new documents have arrived.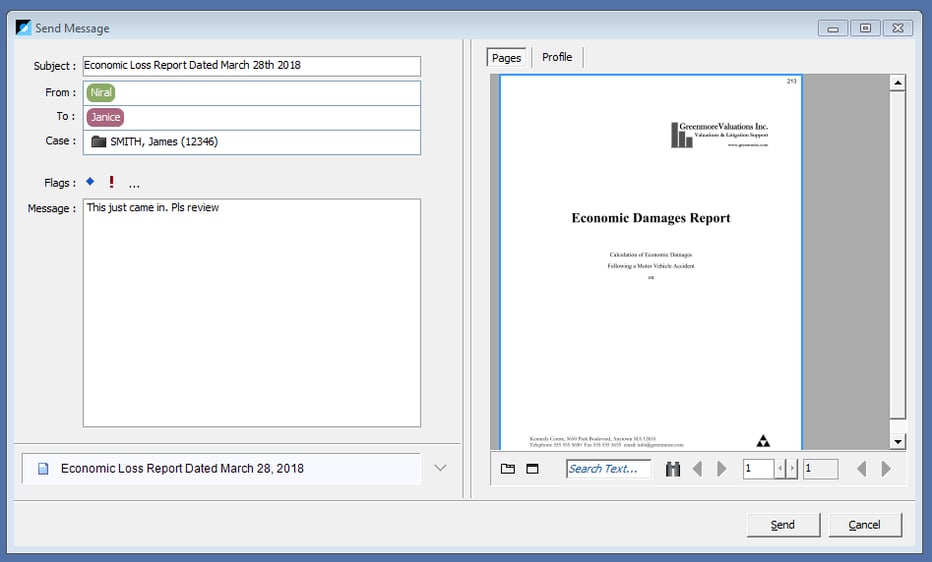 Teams can communicate about Primafact documents in real-time using easy-to-manage inboxes within Primafact, reducing email load.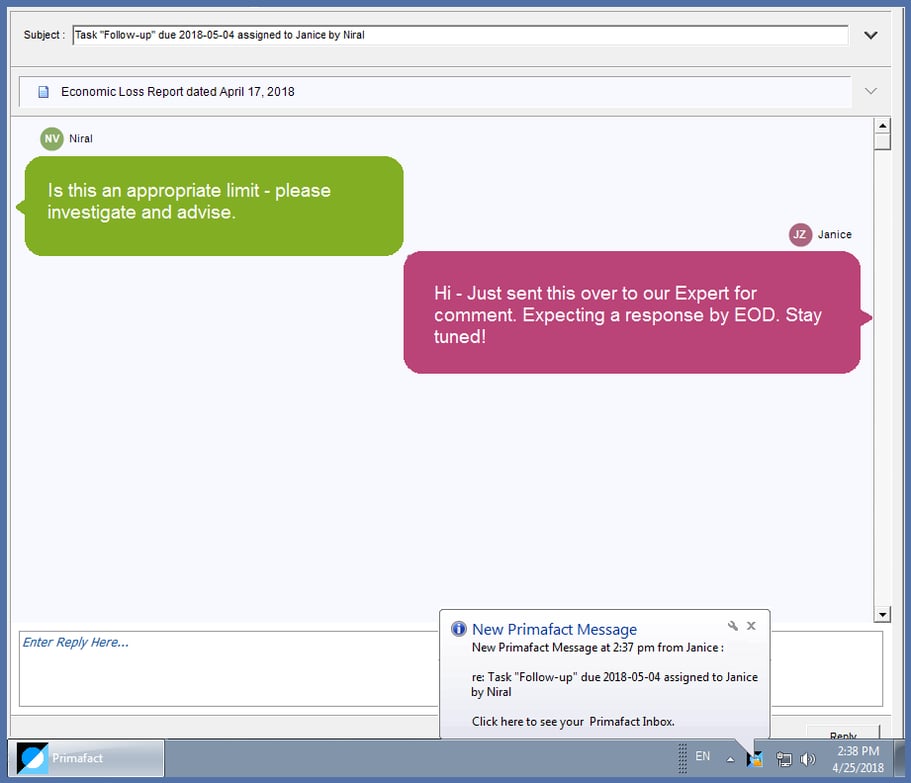 Messages across the team stay connected to documents, making it fast and efficient for team review. Teams can view messages attached to documents even if they did not send or receive the messages.
---
Receiving a new document will likely result in a follow-up activity required by the team to complete by a certain date. Task Management tools in Primafact let you create, manage and track tasks linked to your case documents.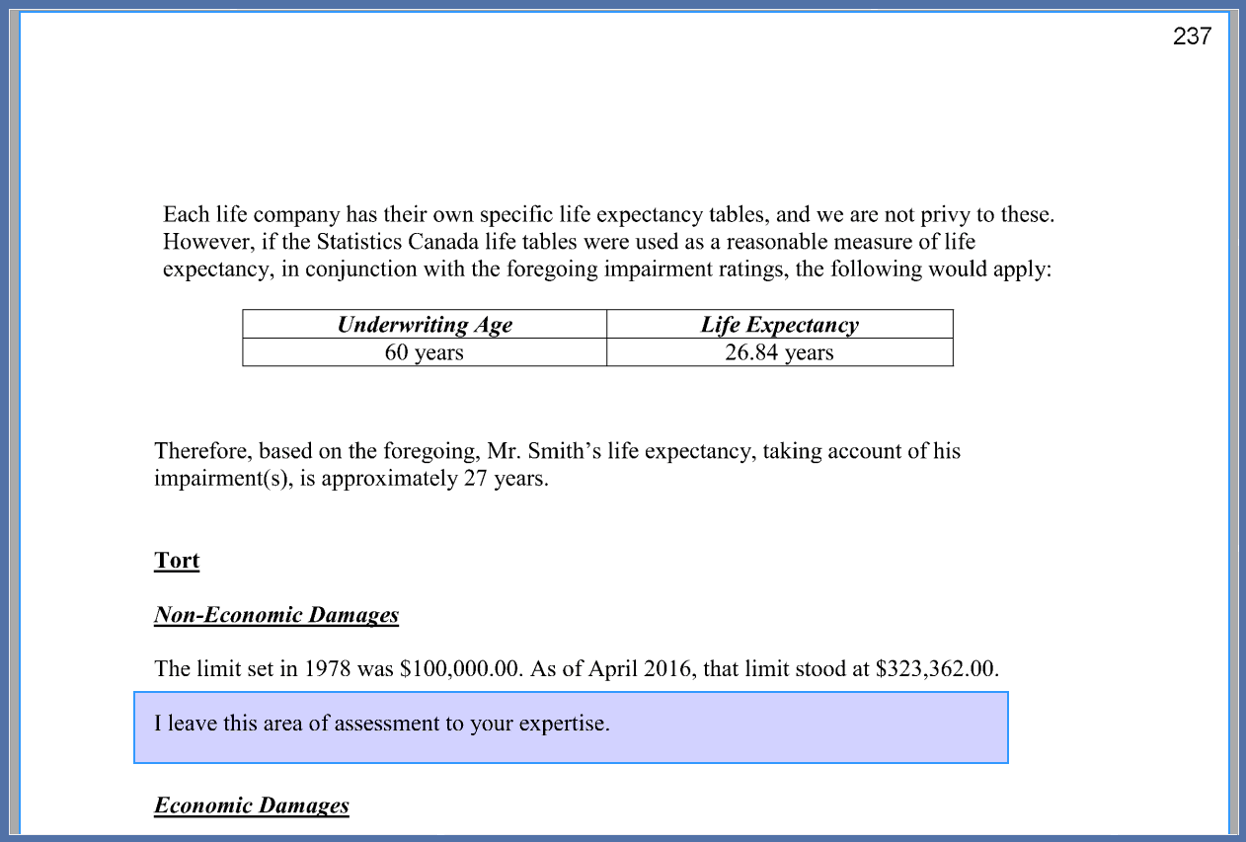 You can assign tasks to yourself or other users, provide a due date and instructions, and colour-code for ease of identification. You can even code by issue to consolidate issue-related activities.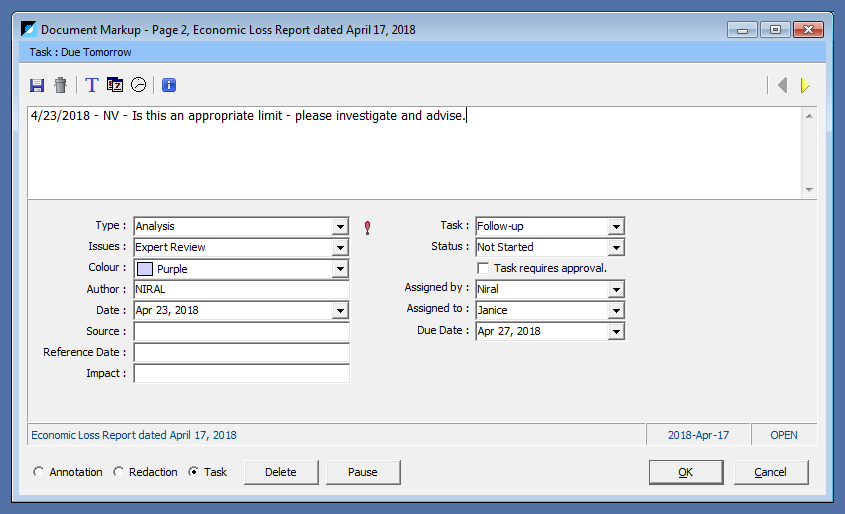 If you create or assign a task assigned to another team member, they will be notified in their Primafact Inbox. They will be able to review both your note and the related document, and reply back using the in-app messaging.
Click to learn more about the Tasks feature available in Primafact.
---
#5: On-the-go productivity
On-the-go productivity is important to the busy litigator. They need their cases to continue developing in their absence. The ability to easily review incoming documents while on-the-go can unlock valuable moments of productivity.
Primafact's Mobility App allows you to securely review and reply to messages from the office right from your smartphone– you can remain productive discussing the contents of that economic loss report with your paralegal while on your morning coffee runs.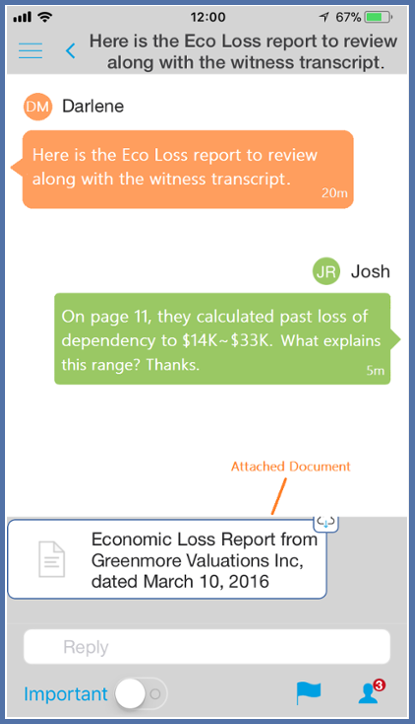 You can even markup documents and provide timely instructions so you can stay on top every step of the way.
Read our blog post on mobile productivity to learn what litigators love about this exciting feature!
---
Primafact brings you one step closer to inbox zero. one message at a time.
Document intake and team collaboration features in Primafact make it easier for litigation teams to work together more seamlessly across their case load– resulting in less emails cluttering their inboxes.
Case-related conversations and task statuses are made available as a community resource, allowing litigators to have a better understanding of what's happening on their files. As a result, team members feel less siloed, more in-the-know, and incrementally responsive when new developments arise on a case.
Litigators agree: Primafact enhances team efficiency– one message at a time!
--
This blog post is part of our series on '8 Key Primafact Features Litigators Should Know About'. Click to learn more about what makes Primafact an essential tool for litigators aiming to improve their advocacy.
Ready to Take the Next Step?
SPEAK WITH US TO LEARN more about how PRIMAFACT gives litigators the winning advantage.