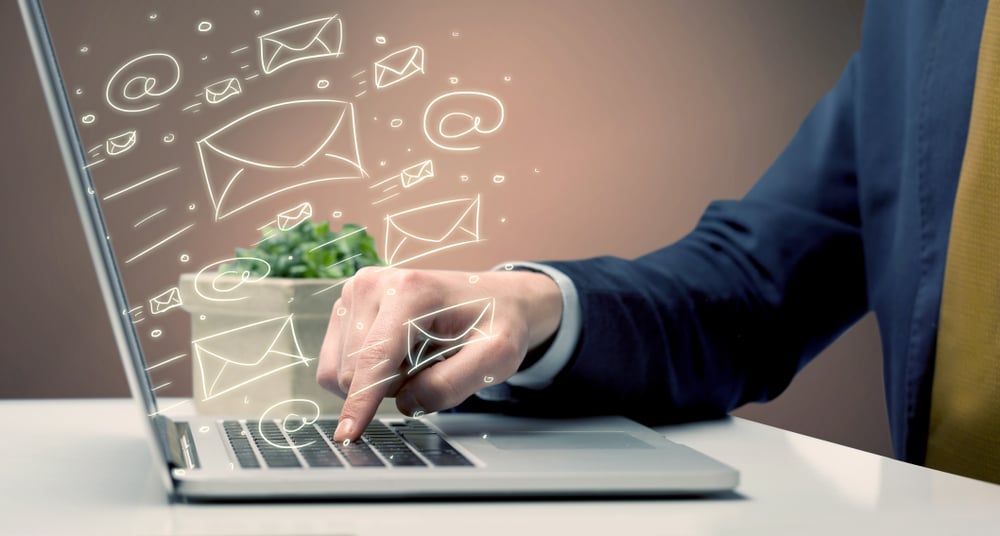 Primafact's built-in publishing tools make it easy for legal teams to assemble and share documents with opposing counsel, expert witnesses and clients. After diligently assembling productions, firms need an efficient way to share these documents, and Primafact's Publish tool is designed to streamline this process.
The published package includes a built-in document viewer that presents the recipient with an organized brief that can be conveniently reviewed without Primafact software. The built in Primafact document viewer can only be opened in a Windows environment. If your recipient is a Mac user, you can publish your organized document brief to PDF. For more information on Publishing to PDF, please see our blog post on this topic here.
The Published package can easily be shared via secure link service like Dropbox, Office 365 or Tracument, making document-sharing outside the firm quick and efficient. (You can also share files via USB drive or publish directly to CD if you prefer to produce physical media.)
Check out our 4 min tutorial video below
Why Primafact Publish is easy to use:
Familiar binder structure:
Easily assemble binders by dragging and dropping documents into your preferred order
Users can choose how to assemble their documents for production – documents are published as they appear in the binder – with binder page numbering and Bates IDs.
Firms can control whether recipients can search documents, and if profile fields are included
Ability to publish to any electronic format:
Published briefs can be easily uploaded to a secure server or drop box and shared via secure link
Saves time and costs compared to sending via courier (paper or USB key)
Redactions:
All redactions applied to published documents are automatically included when shared using Primafact Publish
Your annotations remain secure:
Annotations made in Primafact are never included in documents shared via Primafact Publish
How to export your Productions Brief using the Primafact Publish Tool:
Navigate to the Productions Binder
Right Click anywhere within the Binder
Scroll to Productions and select Publish to CD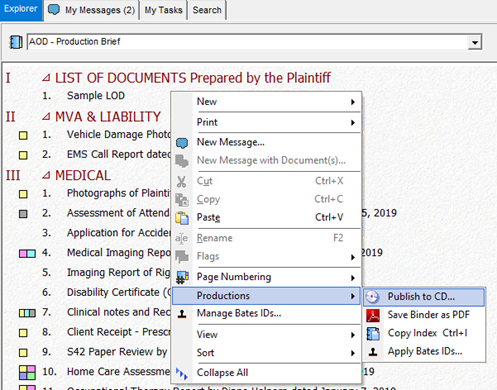 The Publish Primafact Folders window will appear. You will notice that the AOD – Productions Brief Binder is already selected.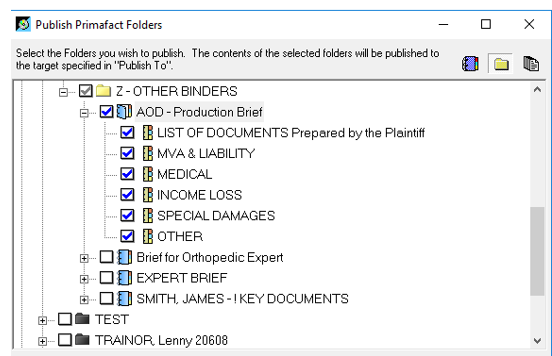 Click the Target Folder icon
Select the desired save location and New Folder and rename the folder as needed and click OK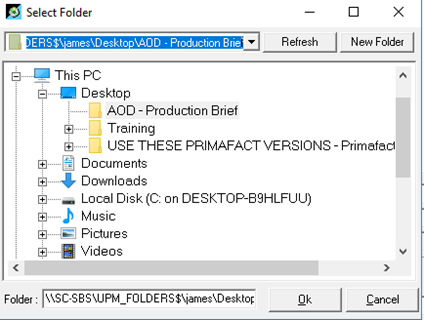 Note: An additional box will appear after you have named the folder. Click ok for Primafact to recognize the new location
Adjust the export options as needed and select Publish

Note: The publisher tool will provide an estimate of how much disk space is needed for the publish documents and built-in viewer – which can be helpful if exchanging your published brief on CD or USB stick.
If sharing your published brief via link, you will need to compress ("zip") the published folder before uploading your file for sharing. The compressed file will have to be unzipped to be viewed by the recipient.
Assembling productions can be a tedious endeavor for even the most experienced clerk or assistant – and it shouldn't be. Primafact's publishing tools are easy to use and are an efficient and effective way of sharing productions with external parties involved with your case.
WATCH THE TUTORIAL VIDEO
For more tips on effectively using Primafact's Case dev
elopment features, visit our Training video library
For more information about Primafact's Document Management Software for Litigators, please contact Sales at 1-877-726-3228 (Canada Toll Free), 1-877-873-0592 (USA Toll Free)