---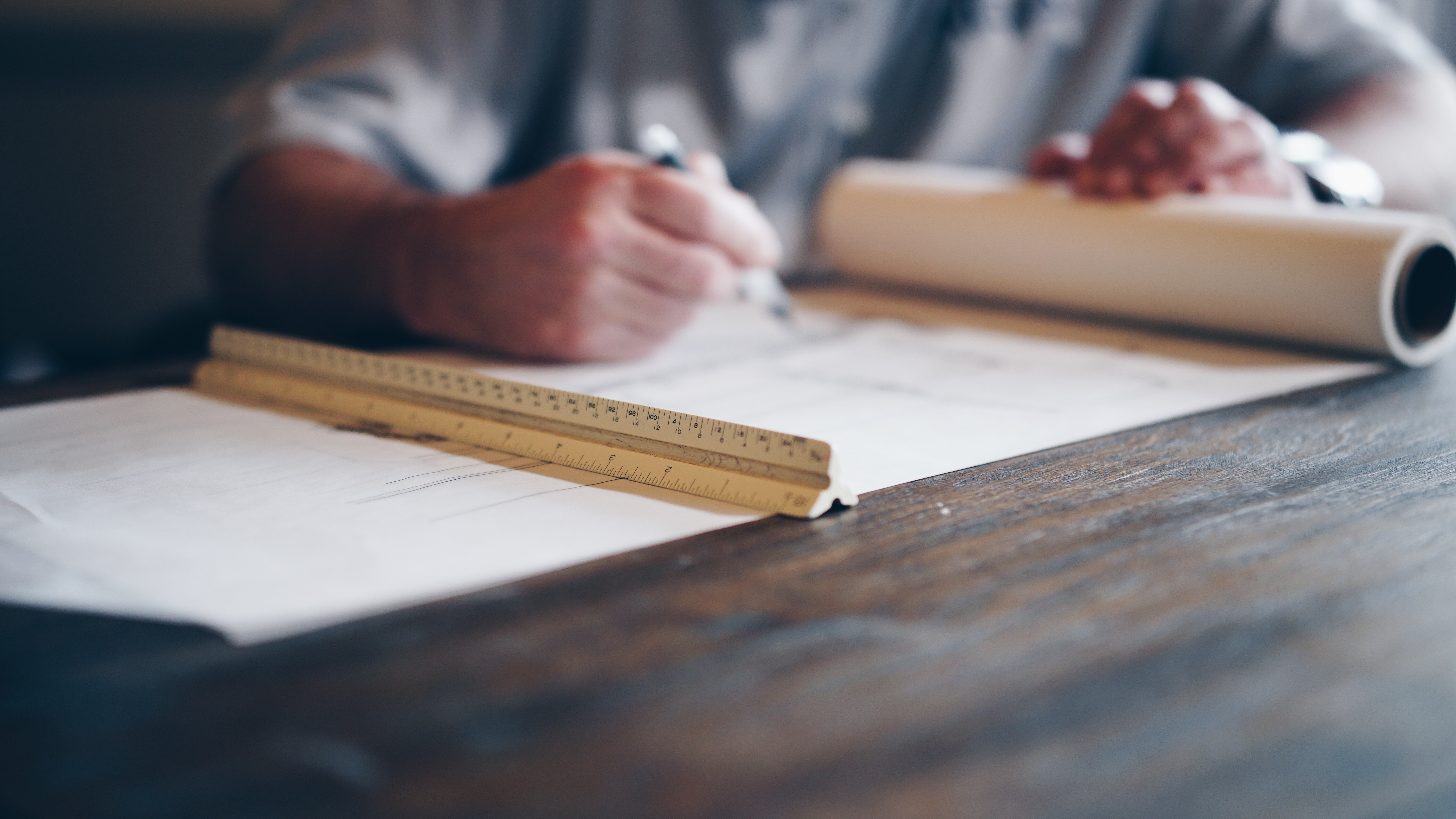 ---
Starting on the right foot with Primafact can go a long way toward establishing a sustainable paperless system that maximizes your team's efficiency and enhances your advocacy. The goal is a smoothly-working document management system that meets your needs, with clearly defined processes for your users.
This blog post outlines the best practices to consider so as to ensure your Primafact implementation is successful.
There are four key components to review when considering to implement Primafact's litigation document management system at your firm:
---
1| Team Roles
There are several individuals who will directly contribute to the success of the project. It's helpful to familiarize yourself with them, so you know what to expect from your team when you're ready to start the process.
PRIMAFACT IMPLEMENTATION TEAM



Primafact Consultant

The Primafact Consultant (PC) is appointed by Primafact to provide project planning guidance, and provide training. After the Kick-Off Call, the Primafact Consultant is the firm's primary contact at Primafact until the Implementation Project is Complete.




Primafact

Manager




The Primafact Manager (PM) is the firm's primary point of contact with your PC. The PM is responsible for scheduling meetings and training, and coordinating firm inputs for the project plan. A Clerk or Office Manager is typically selected for this important role.




Primafact Owner




The Primafact Owner (PO) is a person in authority at the firm, typically a Partner, who has the authority to make authoritative Project decisions. The PO approves and signs the final Implementation Plan. A senior Partner is typically selected for this role.




Primafact Committee




At the outset of the project, your firm selects a Primafact Committee – usually 3-6 firm members who will provide planning input for your Primafact project. Members typically include one Partner, a Clerk or Paralegal, and other individuals who have a stake in (and good understanding of) file management.
---
2|

Project Overview
Your Primafact Project consists of two key components: Planning and Training. These take place in the order indicated on the Project Delivery Roadmap below.

The Implementation Plan is the key deliverable in the Planning Phase. Documenting the project timetable, and firm decisions on file selection, organization and workflow, the Implementation Plan acts as the agreed Statement of Work for the project. The Implementation Plan must be approved by the Project Owner before any training proceeds.

Note that the time required to complete implementation will vary, depending on the firm's readiness based on a number of logistical factors and dependencies.

Here is an overview of the Project Delivery Roadmap: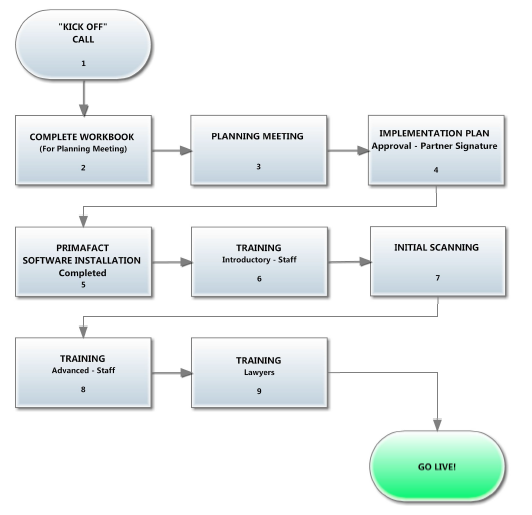 ---
3|

Planning
The Planning phase begins shortly after the "Kick-Off" call, and covers the following aspects of your project:
Binder Template Customizations for your firm (as required)
Scanning Plan
Document Intake Workflow
Scheduled Training Dates
Approved Implementation Plan
There are generally two Planning Meetings – the first to discuss all key issues, and the second is a short call between the PM and Primafact Consultant to tie up any loose ends. For smaller projects, a single meeting may be sufficient.



There is some information that you would be required to provide before the planning meeting:
A copy of any standard Binder Indexes that you use

(Binder Template samples appear in the Workbook)

An example of how your Briefs need to be Indexed
Any Document Control/Cover sheets you use to manage documents
Scanner model(s) – do they have TWAIN capability?
Information on who (if anyone) will be using Primafact Mobility
---
4|

Training
Training is delivered online in a demonstration format. Sessions are divided into three modules:
Intro Training (Staff)
Typically delivered to staff only, this session orients users to the basics of Primafact navigation and document filing.
Upon completion of Intro Training, Staff enter a complete case into Primafact

(one case per lawyer/team)

.
Advanced Training (Staff)
Typically delivered to staff only, this session familiarizes users with day-to-day Primafact use, including document notifications and communications, sharing documents outside Primafact, creating page-numbered briefs, document searching and review.
Advanced Training (Lawyers)*
Lawyer training is delivered in a shorter session, focusing on the primary requirements of most lawyers– finding and reviewing documents, assembling review notes, and managing document-related communications.
*This separate session is appropriate at most firms, where staff is responsible for filing documents and managing productions.
---
Your Journey starts sooner than you think
Investing in a well-designed paperless system that's right for your firm can add tremendous value, making your new configuration a practice asset that can provide a winning advantage to firms that do it right.

Our Implementation and on-boarding planning is based on best practices established over hundreds of Primafact projects across law firms of all types. Our team of consultants and support staff have the tools, resources, and training to get your team started on the right foot, without disrupting your practice.
Ready to Take the Next Step?
SPEAK WITH US TO LEARN more about how To Get Started with PRIMAFACT.