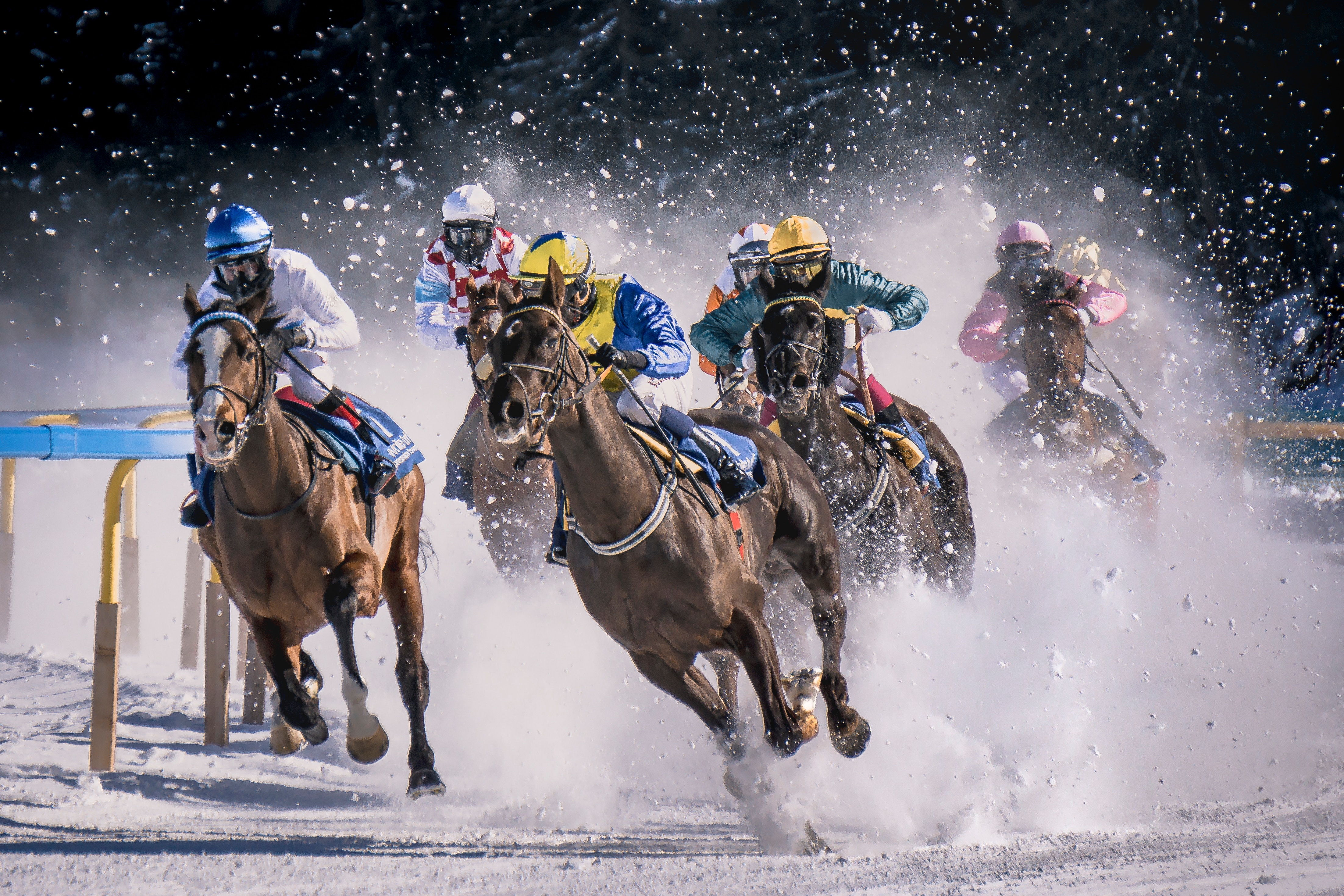 ---
As a busy litigator, you are responsible for dozens, if not hundreds of a cases at various stages of their life-cycle at a given moment. Naturally, it is difficult get up to speed– several competing priorities can prevent you from remembering the details of your cases clearly.

Your clients and your litigation team rely on you to be at the top of your game on every case at every step of the litigation process– so that you can obtain the best case outcomes.
Well, we're here to help!
Primafact is designed to help you get up to speed on cases. This blog post outlines the three ways that litigators can quickly and efficiently review their files using Primafact:
---
1. CASE SUMMARY
The first step when digging into any case is getting the big picture. Primafact's case summaries are a continuous informal record that allows you to:
Remember general case details such as what caused the injury, the extent of the damages, or even what the client looks like;

Identify specific details or issues of note, such as the nature of the injuries; and

What the next steps are on the file.
The value of taking the time to review the case summary cannot be understated. The completeness and accuracy of the case summary lets you focus your review where it can have the most impact. Here is a case summary screen on a file in Primafact in the fictional case of James Smith: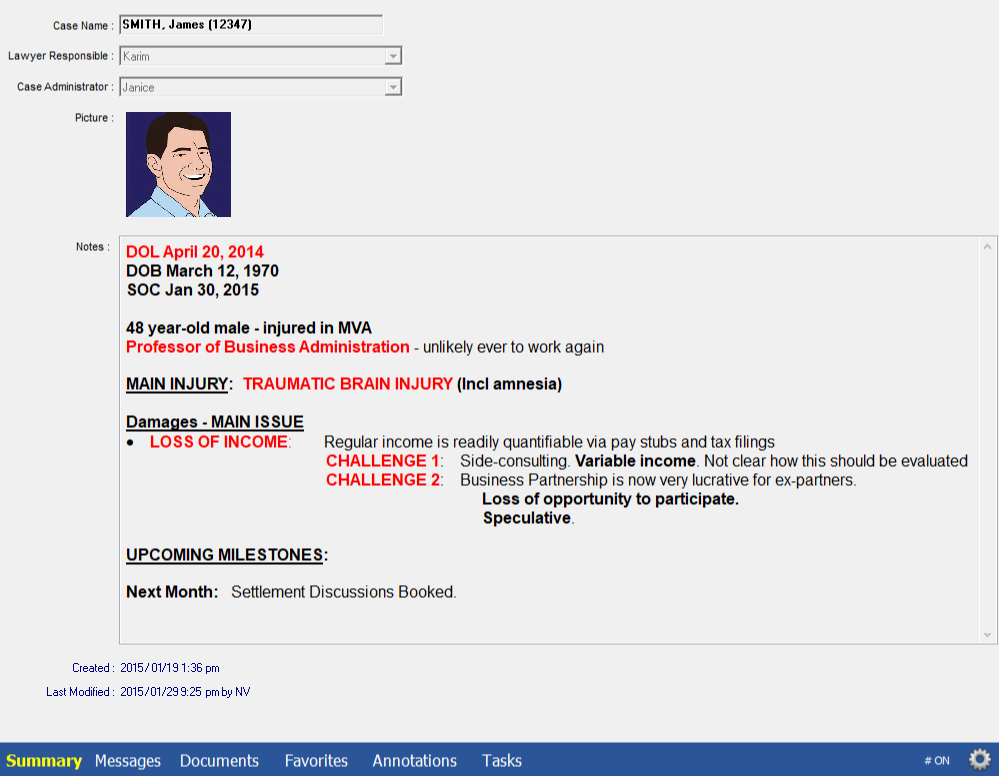 From this at-a-glance information, you can quickly establish key case facts: James Smith suffered a motor vehicle accident injury that resulted in traumatic brain injury (including amnesia). The main issue is outlined as a loss of income from various sources including both his fixed income as a professor and his variable income stemming from a side-consulting business. With this information, you are now ready to dig into the traumatic brain injury/amnesia issue.
---
2. ORGANIZED BINDER VIEW
We know that you're meticulous with how you prefer to have case information organized and presented to you. You are used to a well thought out organization of evidentiary material that provides an efficient review. Furthermore, the benefit of standardization across cases greatly reduces the time it takes for you to understand individual case narratives.
Primafact allows litigators to develop their case narrative with unique Index formats in a Binder View. The Index format offers a familiar view of evidentiary documents organized by Issue, source, date, and other criteria. Using this mechanism, cases can be presented consistently, making it easy for you to quickly understand your case and locate documents of interest relating to a specific issue.
Below is the Medical Brief for the James Smith case in Primafact: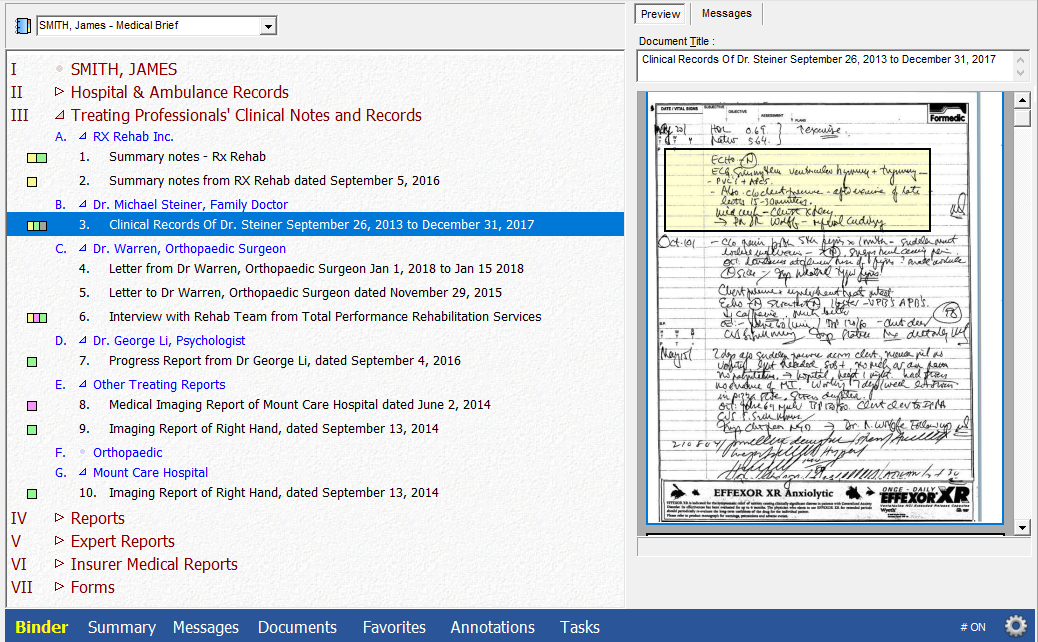 When reviewing the information laid out in this format, litigators can explore case facts at a faster pace. They can instantly dig into the clinical records from Dr. Steiner in order to obtain additional insight into Smith's brain injury and the doctor's amnesia diagnosis.
---
3. ANNOTATION LISTS BY ISSUE
Notes and markups contain the key analysis of your team. Traditionally, litigators and their teams would hand-write notes to review key issues at a later date. Colorful sticky notes are another popular mechanism used for issue identification purposes. Other litigation teams who have made the leap towards a paperless practice record notes in Microsoft Word®. The downside of these approaches are that notes are disconnected from the underlying documents.
In Primafact, these handwritten notes, markups and sticky notes are represented as annotations. Using annotation features, you can instantly locate notes in a case.
The Annotations List in Primafact is a structured, yet flexible means of consolidating all of the annotations pertaining to a specific issue in a case. Once annotations are created and appropriately coded by date, issue, color, and reference fields, the list can be filtered and sorted for quick identification and review.
Below is an annotations list filtered by references to brain injury and amnesia on the James Smith case. Once an annotation is selected from the list, the underlying document is displayed with the color-coded annotation highlighted for your reference.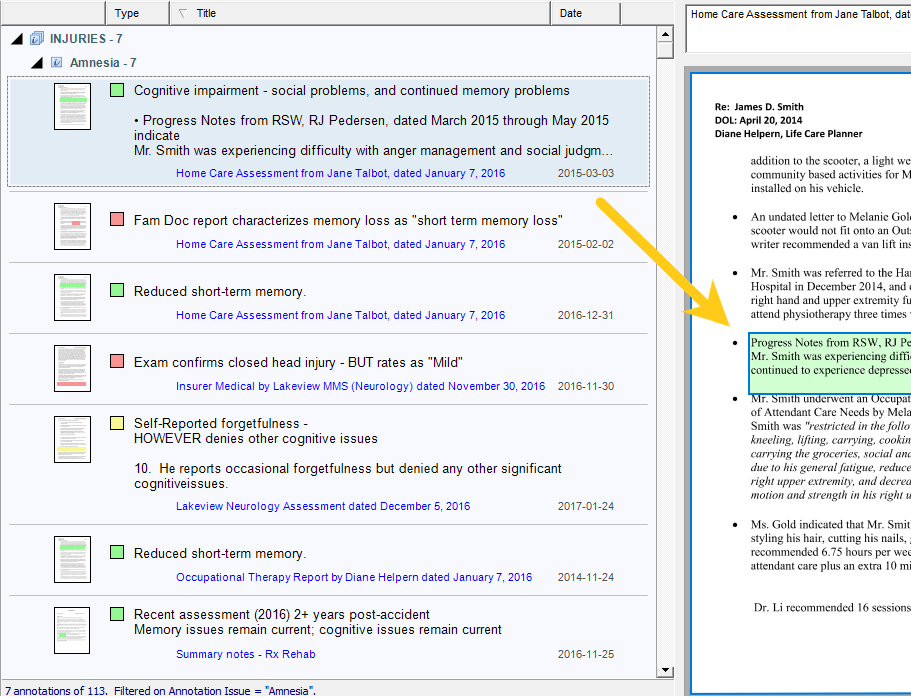 In the case of James Smith, our claim rests on an amnesia diagnosis stemming from a motor vehicle accident. This annotation list, complete with issue coding, walks you through relevant team notes on this issue.
---
Primafact Reduces barriers and gets you up to speed
Competing priorities and other tasks can no longer prevent you from obtaining case facts quickly and efficiently.
Primafact reduces these barriers– so you can get done faster and be at the top of your game on every case, at every step of the litigation process.
Ready to Take the Next Step?
SPEAK WITH US TO LEARN more about how To Get Started with PRIMAFACT.